INSIDE THE AUGUST ISSUE…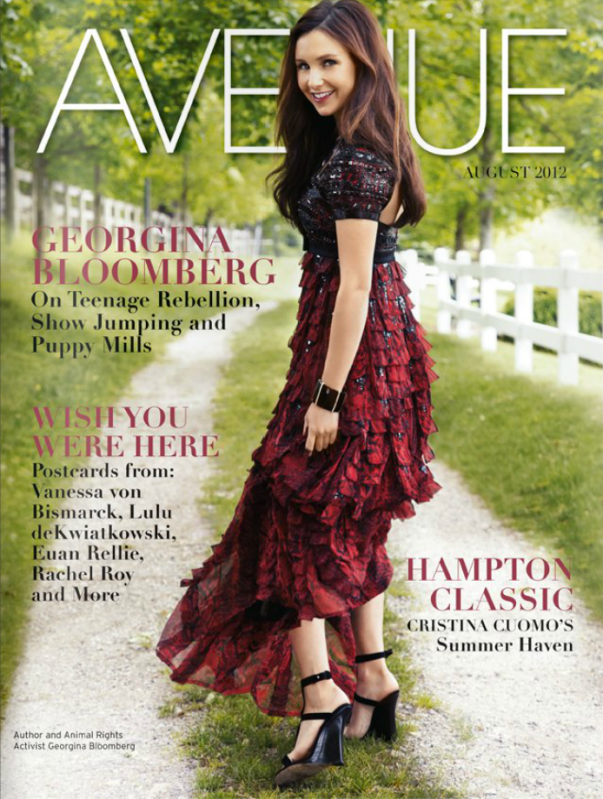 GOTHAM'S GIRL
Georgina Bloomberg, the mayor's younger daughter, opens up her apartment and her family's riding estate. She opens up about her equestrian career, animal activism, and introduces her many four-legged friends.
Interview by Janet Allon, Photographs by Carlos Ruiz
SUMMER SANCTUARY
Experience summer in the Hamptons, according to Cristina Cuomo. From where to eat and what to order, to adventures worth trying, activities for kids and the best coffee out East, Cuomo gives a roundup of her favorite summer spots.
Diary by Cristina Cuomo, Photographs by Carlos Ruiz
DEAR AVENUE
Some of New York's most stylish and prominent residents may be missing from the local scene in the final month of summer. Find out where the likes of Vanessa von Bismarck, Lulu deKwiatkowski, Euan Rellie, and Rachel Roy go to get away.
Edited by Haley Friedlich
CHRONICLES
Brave the hottest night of the summer, with the hottest celebrities on hand, to fete Woody Allen's latest film. Then head to St. Tropez for the chicest of European adventures.
By Debbie Bancroft
OBJECTS OF DESIRE
All packed up and ready to go with the ultimate in travel goodies.
By Amy Michelle Smith
UNREAL ESTATE
Mocomanto is an iconic Southampton shingled Victorian that may be full of history, but has plenty of room for more.
By Michael Gross
SCANDAL SHEET
A relationship riddled with scandal from the beginning became all the more intriguing when Ann Woodward shot William Woodward, Jr. in their Oyster Bay home.
By Haley Friedlich
FIRST PERSON
The Watermill Art Center and the Parrish Art Museum had East End patrons celebrating into the summer nights with two Hamptons arts fundraisers.
By Lisa Anastos
SOCIAL SAFARI
Cornelia Guest's fabulous friends like Carolina Herrera and Prince Dimitri of Yugoslavia join her in celebrating her second book, while Southampton Hospital's Grand Prix party and more East End happenings draw out high society.
By R. Couri Hay
WORLD ACCORDING TO…
Alain Ducasse, the French-born chef with an impressive collection of Michelin stars, sounds off on his favorite New York locales and friends, and his newfound appreciation for Brooklyn fare.
ON THE AVENUE
The best parties of the month add to the summer's sizzle.
ARTS CALENDAR
A preview of what's on view at auction houses, galleries and museums this fall.